RAJASTHAN
Nine districts to get free pneumonia vaccine in Rajasthan
Pneumococcal Conjugate Vaccine (PCV) is being introduced as part of universal immunisation programme (UIP) in nine districts of Rajasthan from World Health Day on April 7.
In the first phase this vaccine will be administered to children in nine districts namely Banswara, Barmer, Dungarpur, Jalore, Pali, Pratapgarh, Rajsamand, Sirohi and Udaipur. Two primary doses of the PCV will be administered at six weeks, 14 weeks and with a booster dose at nine months.
She said pneumonia kills more children under-five years of age in India than any other infectious diseases. The pentavalent vaccine was scaled in all states under the UIP in 2015 protects against haemophilus influenzae type b (Hib) pneumonia. Now, introduction of PCV in UIP will reduce such deaths. It will also reduce the number of children being hospitalised and therefore reduce the burden on the families and the health cost of burden on the country. The under-5 mortality rate is 50 per 1000 live births as per sample registration system 2015.
After introducing this vaccine in nine districts, soon other districts will also be covered. He said earlier this costly vaccine was available only in the private sector costing Rs
3000-4000 per dose, which now will be available free of cost.
This life saving vaccine will not only improve the health of children but also reduce unnecessary hospitalisation and other conditions associated with pneumonia.
INTERNATIONAL
·        World Health Day is celebrated on 7th April
The World Health Dayis a global health awareness day organized globally on 6th April.
World Health Day is one of the eight official health campaigns which are marked by the World Health Organization.
With an aim to spread awareness about health and well being, the first-ever World Health Day was observed in 1948 by the WHO.
The theme of World Health Day isUniversal health coverage: everyone, everywhere. The slogan is "Health for All".
NATIONAL
Exercise Gaganshakti-2018
An all encompassing coordinated and composite exercise named Gaganshakti is being conducted by the IAF from 08-22 Apr 18.
The aim of this exercise is real time coordination, deployment and employment of Air Power in a short & intense battle scenario.
During Gaganshakti IAF will exercise the entire machinery to validate its concept of operations and war waging capability.
Ministry of Tribal Affairs to launch first ever "Van Dhan Vikas Kendra"
The Ministry of Tribal affairs has approved establishment of the first multipurpose "Van Dhan Vikas Kendra" on pilot basis for establishment in Bijapur District of Chhattisgarh State.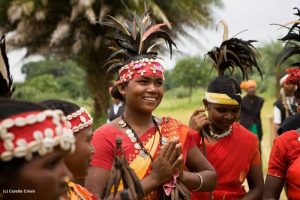 It has been setup for providing skill upgradation and capacity building training and setting up of primary processing and value addition facility.
This first model Van Dhan Vikas Kendra is being implemented for training of 300 beneficiaries with a total outlay of Rs 43.38 lakhs for training, providing equipment's & tools for primary level processing and infrastructure & building for housing the Kendra.
Khadi Store Locator App Launched
The 9th National Board of Khadi and Village Industries Commission (KVIC) met in New Delhi.
The Minister of State for MSME, Giriraj Singh chaired the meeting.
The Minister launched a mobile phone application for locating 4,000 Khadi stores in the country.
There are more than 8,000 Khadistores in India, the rest of stores will also be available on the store locater by the end of this month.
This was informed by Vinai Kumar Saxena, Chairman KVIC in the board meeting.
·        Deepak Lather Becomes Youngest Weightlifter To Win Medal
Teenager Deepak Latherbecame the youngest Indian weightlifter to claim a Commonwealth Games medal, clinching a bronze in the men's 69kg category.
The 18-year-old from Haryana lifted a total of 295kg (136kg+159kg) to finish third after his nearest rival, Vaipava Loane, fouled his last two lifts to end with a total of 292kg.
He held the 62kg category national record at 15.
He trained at the Army Sports Institute as a diver before being pushed into weightlifting by the coaches there.
·        Central Government and Maharashtra World Bank Sign 420 Million Dollar Project
The Centre, Maharastra Government and the World Bank have signed a 420 million dollar projectto help small and marginals farmers in the Marathwada and Vidarbha region of the state.
This project will help in increasing climate resilient practices in agriculture and ensuring that farming continues to remain a financially viable activity for them.
The Maharashtra Project for Climate Resilient Agriculture will be implemented in rural areas largely dependent upon rain-fed agriculture.
The project will take up a series of activities at the farm and watershed level.
·        India's best 'State of the Year' award goes to Chhattisgarh
Chhattisgarh bagged the 'State of the Year' Awardfor its remarkable progress in business and services activities in various sectors of the state.
The remarkable jump is the result of policy decisions taken in the field of business by Chhattisgarh government in the past few years and its effective implementation.
Union Information Technology and Electronics Minister Ravi Shankar Prasad gave the award at India Business Leader Awards (IBLA)event. The award was received by Chhattisgarh Revenue, Higher Education, Skill Development and Technical Education Minister Prem Prakash Pandey.
On the occasion, the minister attributed the growth of the state to the BJP government which has been in power since 2003 in the state.
The state government has successfully completed 14 years under the leadership of Chief Minister Dr. Raman Singh.