West Bengal: Irrigation and hydro power
Kangsabati Reservoir Project 
Kangsabati Reservoir Project was started in the year 1956-57. Till date an irrigation potential of 3,48,477 ha. has been created in the districts of Bankura, Midnapore and Hooghly through this Project.   With bank assistance and under Accelerated Irrigation Benefit Programme, the Government has undertaken large extension and improvement programme of the main canals. The project though originally planned for Kharif and limited Rabi, at present the irrigation water is provided for Boro cultivation also to an area of 27,944 ha.
Mayurakshi Reservoir Project  
Mayurakshi Reservoir Project was taken up for execution in 1951. This Project has been completed in all respects in the year 1985. The irrigation potential created through completion of this project comes to 2,50,860 ha. in the districts of Birbhum, Murshidabad and Burdwan. Irrigation water is also supplied to the state of Jharkhand from this reservoir to an area of about 6,000 ha. This Project is adjudged to be one of the best performing irrigation projects in India. The project was planned originally for giving water to Kharif and Boro seasons. At present with favourable rainfall we provide irrigation to Boro crops for an area of 20,000 ha (approx.). The industrial requirement of Bakreshwar Thermal Power project is also now made from this project. Though there is no provision for flood control yet with advanced planning it was possible to reduce peak flood of year 2000 by 30%.
Damodar valley corporation
The river Damodar has a basin area of 58,480 sq. km. of which 32,110 sq. km. is in Jharkhand (erstwhile Bihar). A comprehensive programme of flood control, irrigation and power generation was planned under a corporation with participation of Bihar, West Bengal and Govt. of India. DVC was formed in 1948. Four dams situated in Jharkhand is complete though acquisition of some flood storage areas still remains incomplete. The irrigation and canal system of DVC has been handed over to the Govt. of West Bengal in 1964.   In the original project DVC canal system was designed mainly to provide irrigation in Kharif and Rabi period. Now, the system has started providing irrigation to summer paddy also. At present further work for increasing irrigation coverage by reducing transmission losses and changing cropping pattern has been taken up.   An irrigation potential of 4,83,500 ha. out of its ultimate irrigation potential of 5,10,110 ha. has been created through the project in the districts of Burdwan, Bankura, Hooghly and Howrah.
Teesta Barrage Project  
Teesta Barrage Project is one of the largest irrigation projects not only in West Bengal but also in the entire eastern region. It will create 9.22 lakh ha. of irrigation potential in six northern districts of West Bengal and 67.50 MW of hydropower from canal falls. The Project has three different phases and the Project envisages utilisation of potential of the Teesta River in the field of irrigation hydropower generation, navigation and flood moderation.
The preliminary activities of 1st Sub-stage of Stage-I of Phase-I was started in the year 1975-76 and the work proper was started from 1976-77. The Irrigation areas in different Sub-stages and stages of Phase – I are indicated below districtwise.
Subarnarekha Barrage Project 
The Subarnarekha Barrage project, a new Major Irrigation Project with an irrigation potential of 1,14,200 ha. was identified and proposed for execution in June 1994. The infrastructure development programme of the project has already been taken up. The project has been proposed for obtaining assistance under the Accelerated Irrigation Benefit Programme (AIBP) of the Govt. of India.
Midnapore Canal
West Bengal happened to be a pioneer in the field of irrigation in India. The earliest one namely Midnapore Canal was taken up in 1866 and irrigation commenced in 1871. The canal originally was part of Orissa Canal Scheme. It was intended to have a high canal providing a navigational route between Cuttack and Calcutta. But the Midnapore canal at an early stage was separated and treated as a distinct project. The water supply is derived from the river Kangsabati at Mohanpur where there is a regulating weir with head works and the canal extends to Uluberia on the river Hooghly crossing the Rupnarayan and Damodar rivers en route. The total command area of the scheme is 49,879 ha.   The work of this canal was first taken up by East India Irrigation and Canal Company and by the Government two years later.
Hydro power projects in west Bengal
Jaldhaka Hydel Project
Jaldhaka Hydel Project is one of the foremost hydro electric projects in the country which serves as a bridge to go across Bhutan. The site is encircled by the walls and visitors are required to get an approval from the West Bengal State Electricity Board (WBSEB) authorities. Moreover, tourists can also visit the forest cottage which is located in Jhalong nearby the Jaldhaka River.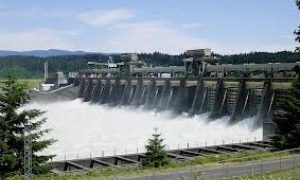 Massanjore Hydroelectric Project
Massanjore Dam is a hydropower generating dam over the Mayurakshi River located at Massanjore near Dumka in the state of Jharkhand, India. The Massanjore dam (also called Canada Dam), across the Mayurakshi, was commissioned in 1955. It was formally inaugurated by Lester B. Pearson, Foreign Minister of Canada. Massanjore dam is about 38 kilometres (24 mi) upstream from Siuri in West Bengal. It is 47 metres (155 ft) high from its base and is 660 metres (2,170 ft) long. The reservoir has an area of 67.4 square kilometres (16,650 acres) when full and has a storage capacity of 620,000,000 cubic metres (500,000 acre·ft). It cost Rs. 16.10 crore.
Purulia Pumped Storage Project
Purulia Pumped Storage Project of West Bengal State Electricity Distribution Company Ltd (WBSEDCL) envisaged 4 units of 224 MW each. This project can generate 900 MW power instantly by discharging stored water from Upper dam to Lower Dam through reversible pump-turbine and generator motor. The project located in Ajodhya Hills in Bagmundi village of Purulia district was commissioned in February 2008 and was dedicated to the nation by the Buddhadeb Bhattercharjee, Chief Minister of West Bengal on 6th April 2008.
The Rammam hydroelectric project
This project is a run of the river scheme and is located at a distance of about 50 km from Ghoom (Siliguri-Darjeeling road) and 130 kms from Siliguri. The nearest rail head is at New Jalpaiguri and the nearest airport is at Bagdogra. The diversion structure is located just downstream at the confluence of Rammam river with Lodhama Khola near Lodhama village and the power house site is located near village Barbatia on the right bank of river Rammam.
Teesta Low Dam IV Hydroelectric Project
State-run NHPC's 160 MW Teesta Low Dam-IV Hydro project in Darjeeling district of West Bengal has become fully operational. The three units of TLDP-IV project were commissioned on February 14, March 31 and July 1 2016.