RAJASTHAN
Rajasthan government moves to curb witchcraft in districts
The social justice and empowerment department has directed district collectors to strictly enforce the Prevention of Witch-Hunting Act of 2015 in their districts. The department has also drafted a multipronged strategy to fight this menace.
It has asked collectors to identify the pockets in their districts where the practice of witchcraftis still prevalent and launch special campaigns against the social evil and initiate schemes for the rehabilitation of victims.
The department has identified 14 most sensitive districts where the practice of witchcraft is still prevalent. They are Jaipur, Bundi, Tonk, Chittorgarh, Bhilwara, Rajsamand, Udaipur, Ajmer, Jhalawar, Kota, Pratapgarh, Banswara, Sawai Madhopur and Dungarpur.
The department has also decided to launch a campaign at the grassroots level against this inhuman practice in collaboration with local NGOs, community liaison groups (CLG), adult literacy programmes, women self-help groups (SHGs) and people's representatives.
Another important aspect is the rehabilitation of the victims and providing support systems. The allotment of housing plots, medical care, power, water, pension, etc., will be provided to them under existing schemes.
INTERNATIONAL
·       Anupama Clinches World Open Under-16 Snooker Championship Title
India's Anupama Ramachandran clinched the World Open Under-16 Snooker Championship title at St. Petersburg in Russia.
In the girl's category, second seed Anupama knocked out her compatriot and top seed Keerthana Pandian 3-1 to become World Open Under-16 champion.
This is the Federation of Billiards Sports of Russia hosted this first-ever World Open championships for Under-16 boys and girls.
India drops a rank, is eighth most valuable nation brand.
India is ranked the eighth most valuable nation brand while the United States retained its top position and China took the second spot in the league of nations according to Brand Finance's Nation Brands 2017.
India went down one spot over the previous year, the report said, because the economy grew at its slowest pace.
China, the fastest growing nation brand in 2017, saw valuation grow 44 per cent.
NATIONAL 
Prez launches Rs 100 crore clean water initiative
President Ram Nath Kovind launched Mata Amritanandamayi Math's Rs 100 crore clean water initiative for rural India at the math headquarters in Kerala.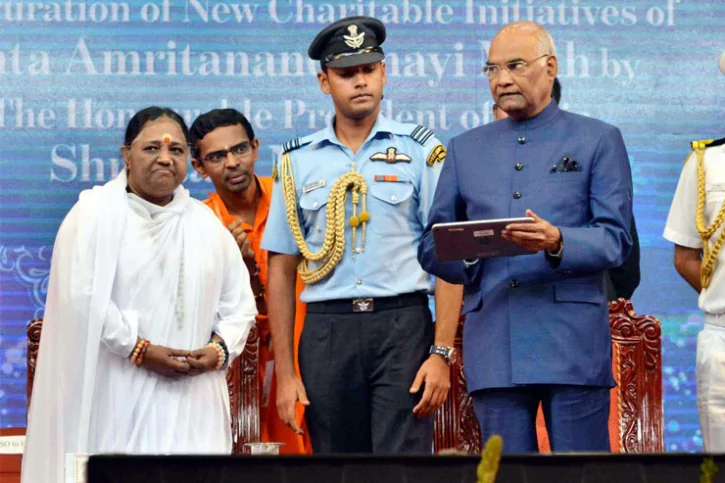 Kovind, who is on his maiden visit to the southern state after assuming office, inaugurated the
'Jivamritam' filtration system, envisaged to provide clean drinking water to 10 million villagers across the nation.
The programme was organised as part of the 64th birthday celebrations of spiritual leader Mata Amritanandamayi Devi, popularly known as 'Amma' among her devotees.
·       Prime Minister Narendra Modi launches 'Intensified Mission Indradhanush
Prime Minister Narendra Modi launched an intensive immunization drive from Gujarat's Vadnagar, saying no child should suffer from any vaccine-preventable disease.
Under the IMI, a seven-day immunization drive will be conducted each month from now till January 2018 in 173 districts and 17 cities.
These districts include 52 in eight northeastern states and 121 in 16 other states.
The main aim of the program is that Let no child suffer from any vaccine-preventable disease.
·       Reserve Bank of India to soon Launch Financial Literacy Drive in 9 States
TheReserve Bank of India (RBI)is to launch a financial literacy drive in 80 blocks in nine states on the pilot basis to educate people on e-transactions, formal sector borrowings, and insurance purchases.
According to RBI, it commissions 9 states of Maharashtra, Chhattisgarh, Bihar, Odisha, Karnataka, Telangana, Andhra Pradesh, Haryana and Uttar Pradesh by the 6 NGOs in collaboration with the sponsor Banks.
The main aim is to inculcate the habit of making a household budget and recording financial transactions, encourage transactions in savings accounts, and active saving by depositing in banks through fixed deposits and recurring deposits.
·       Prime Minister Narendra Modi lays Foundation Stone for Bhadbhut Barrage over Narmada River
Prime Minister Narendra Modilaid the foundation stone for Bhadbhut Barrage to be built over Narmada River in Bharuch Gujarat.
He also flagged off the Antyodaya Express between Udhna in Surat and Jaynagar in Bihar.
He inaugurated a new 500-crore rupees civil hospital and a medical college in Vadnagar, Gujarat.
He launched the intensified mission Indradhanushto accelerate progress towards the goal of full immunization coverage.
·       President launches Mata Amritanandamayi Math Project Jeevamritham in Kerala
President Ram Nath Kovind launched 100 crore rupeesMata Amritanandamayi Math Project "Jeevamritham "to provide a filtration system for cleaning drinking water to 5000 villages across India, in Kollam district in Kerala.
He also distributed the certificates to three villages out of 12 villages in the States of Bihar, UP, Tamil Nadu, Madhya Pradesh, Chattisgarh, Uttarakhand, Maharashtra, and Kerala, which was adopted by the Math, verified as Open Defecation Free bySwatch Bharat Abhiyan.