RAJASTHAN
Rajasthan CSR Summit-2018
The Rajasthan CSR Summit and 2nd Rajasthan CSR Awards are an initiative of Government of Rajasthan to encourage companies, CSR foundations and implementing partners to deliver quality impact through CSR projects and adopt multi-stakeholder approach leading to excellence in project outcomes.
This initiative focuses on identifying and felicitating footprints of successful CSR projects in Rajasthan. The Awards seek to appreciate project specific impacts made by the organizations in identified thematic areas, to set benchmark in project planning, identification of partners and delivery of results.
The Office of Commissioner Industries & Secretary Corporate Social Responsibility(CSR) with Co-partnership with NGOBOX Reanalysis Consultant jointly hosted "Rajasthan CSR Summit-2018" on February 6, 2018 at The Hotel The lalit, Jaipur. Summit was attended by over 650 delegates from Government agencies, businesses, CSR foundations, the UN agencies, Non-Government Organizations and social enterprises.
While in a tremendous show of strength and solidarity, INR 351.40 crores was spent in the last financial year 2016-17 (by 165 Companies) in Rajasthan and the initiatives spanned across social sectors such as education, health, rural development, water conservation, etc., there are some challenges as well in implementing these initiatives effectively and efficiently.
The main focus of the Summit was on the recognition of CSR Programs running by Corporates, implementing agencies in Rajasthan; Implementation of CSR initiatives in Rajasthan; CSR intervention in the field of Education, Women Empowerment through CSR, Measuring Impacts of CSR, Healthcare, Water conservation, creating Livelihood opportunities has been looked as the top priorities in Rajasthan. The main premise of the summit was to build on new avenues for CSR to work towards maximum utilization of resources such as technology and business know-how in order to build a better CSR ecosystem in the state.
INTERNATIONAL
·        International Mother Language Day is observed on 21 February
UNESCO celebrated International Mother Language Day on 21 February.
The 2018 theme is- "Linguistic diversity and multilingualism count for sustainable development".
It has been organized for nearly 20 years with the aim of preserving linguistic diversity and promoting mother tongue-based multilingual education.
·        Google Launches Google Pay to Take On Apple Pay
Google combined its two payment services, Google Wallet and Android Pay, into a new app called Google Pay.
The platform includes features like the ability to pay at checkout counters with a smartphone or pay for public transportation.
·        India International Textiles Expo Begins In Colombo
A three –day India International Textiles Expo (IITExpo)of India began in Sri Lankan capital of Colombo.
It is being organized by Powerloom Development & Export Promotion Council (PDEXCIL)with the support of Union Ministry of Textiles & Ministry of Commerce & Industry.
The event was inaugurated by Sri Lankan minister of Special Assignments Dr. Sarath Amunugama. At the event, about 45 exhibitors from various textile clusters of India displayed a variety of fabrics, home textiles, traditional items etc. suitable for apparel, industrial, technical application and general consumers.
NATIONAL
·        India Successfully Conducts Night Trial Of Prithvi-II Missile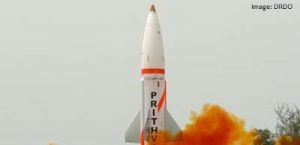 India successfully conducted a night trial of its indigenously developed nuclear capable Prithvi-II missilewith a strike range of 350 km, from a test range in Odisha.
The surface-to-surface missile was test-fired from a mobile launcher from launch complex-3 of the Integrated Test Range at Chandipur, Odisha.
The perfect test launch came after the successful trial of the Agni-5 missile.
EPFO cuts interest rate to 8.55% for 2017-18
Retirement fund body Employees' Provident Fund Organisation (EPFO) has reduced interest rate on deposits to 8.55% for 2017-18 following a general decline in interest rates.
The decision was taken by EPFO's central board of trustees at its 220th board meeting, labour minister Santosh Kumar Gangwar said.
EPFO had announced an interest rate of 8.65% for 2016-17 and 8.8% in 2015-16.
Gk bit – EPFO
Employee's Provident Fund (EPF)is a retirement benefit scheme that's available to all salaried employees. This fund is maintained and overseen by the Employees Provident Fund Organisation of India (EPFO) and any company with over 20 employees is required by law to register with the EPFO.
It's a savings platform that helps employees save a fraction of their salary every month that can be used in the event that person is rendered unable to work, or upon retirement.
When a person start working, him and his employer both contribute 12% of basic salary (plus dearness allowances, if any) into his EPF account. The entire 12% of your contribution goes into EPF account along with 3.67% (out of 12%) from the employer, while the balance 8.33% from the employer's side is diverted to the EPS (Employee's Pension Scheme) . It's important to note that if basic pay is above Rs. 6,500 per month, then employer can only contribute 8.33% of 6,500 (i.e. Rs. 541) to EPS and the balance goes into EPF account.
These funds are pooled together from many employees and invested by a trust. This generates an interest of 8% – 12%, which is decided by the government and the central board of trustees. The annual interest rate is available on the official EPF India website, and is currently at 8.55%.
·        Avani, first Indian woman to fly a fighter aircraft solo
Scripting history, Flying Officer Avani Chaturvedi has become the first Indian woman to fly a fighter aircraft solo.
Three women pilots — Ms. Chaturvedi, Bhawana Kanth and Mohana Singh — had undergone strenuous training programme to fly fighter jets.
They were commissioned as Flying Officers in July 2016, less than a year after the government decided to open the fighter stream for women.
·        Over 40 Indian languages, dialects heading to extinction
More than 40 languages or dialects in India are considered to be endangered and are believed to be heading towards extinction as only a few thousand people speak them, officials said.
According to a report of the Census Directorate, there are 22 scheduled languages and 100 non-scheduled languages in the country, which are spoken by a large number of people — one lakh or more.
However, there are 42 languages which are spoken by less than 10,000 people. These are considered endangered and may be heading towards extinction, a Home Ministry official said. A list prepared by UNESCO has also mentioned about the 42 languages or dialects in India that are endangered and they may be heading towards extinction, the official said. The languages or dialects which are considered endangered, include 11 from Andaman and Nicobar Islands (Great Andamanese, Jarawa, Lamongse, Luro, Muot, Onge, Pu, Sanenyo, Sentilese, Shompen and Takahanyilang), seven from Manipur (Aimol, Aka, Koiren, Lamgang, Langrong, Purum and Tarao) and four from Himachal Pradesh (Baghati, Handuri, Pangvali and Sirmaudi).
The other languages in the endangered category are Manda, Parji and Pengo (Odisha), Koraga and Kuruba (Karnataka), Gadaba and Naiki (AP), Kota and Toda (Tamil Nadu), Mra and Na (Arunachal Pradesh), Tai Nora and Tai Rong (Assam), Bangani (Uttarakhand), Birhor (Jharkhand), Nihali (Maharashtra), Ruga (Meghalaya) and Toto (West Bengal).