RAJASTHAN
Rajasthan Technical University grades colleges on basis of quality
Rajasthan Technical University(RTU) has graded its engineering colleges on the basis of 18 parameters to help students evaluate the institute before taking admission. The grading will push the colleges to improve their deficiencies. The ranking has been uploaded on RTU
116 engineering colleges are affiliated to RTU with 2.25 lakh students on roll. This year, 14,000 students passed out from the university.
Among 116 colleges, top slot of A-grade was awarded to nine colleges.
Top grade colleges will be rewarded by RTU. Colleges securing A grade will get affiliation for five years, those getting B grade will get three years' affiliation and those with C grade will be given temporary affiliation by RTU.
The aim is also to bring more students in technical education. The affiliated colleges could fill an average of 40% seats in last six years. As a result, many colleges faced closure and students coming from outside Rajasthan turned to other states. The university is hoping that the move will bring students at least in the top ranking colleges.
INTERNATIONAL
India's global rank up for reducing greenhouse gas emissions
India is ranked 14th in this year's Climate Change Performance Index (CCPI) 2018 out of 56 nations for reducing greenhouse gas (GHG) emissions.
The top three rankings are still unoccupied as the report says no country is on a Paris-compatible path.
Sweden ranks fourth in this year's CCPI, following the empty top three.
·       Qaumi Ekta Week Observed Across Country
The Qaumi Ekta Weekis being observed across the country from 19th November to foster and reinforce the spirit of communal harmony and national Integration.
As part of the week-long programmes 19th November 2017 day is being observed as National Integration Day.
The last day of the Qaumi Ekta Week will be observed as Conservation Day and several meetings and functions will be organized to emphasize the growing need for awareness and action to conserve the environment.
·       India and France Agree to Deepen Security Co-operation
India and France have agreed to deepen security cooperation, bilaterally and in the multilateral fora, and strengthen strong commitment to combating terrorism in all its forms and manifestations.
After holding delegation-level talks with Minister for Europe and Foreign Affairs of France Jean Yves-Le Drain, External Affairs Minister Sushma Swaraj stated both countries have vowed to get rid of the menace of terrorism.
NATIONAL 
Maharashtra Bans Plastic Bottles at Government Offices, Hotels
The Maharashtra government, in a bid to become plastic-free state from March 2018 on Gudi Padwa, the Maharashtrian New Year, has banned packaged water bottles in Mantralaya and other government offices.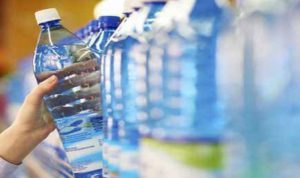 Plastic bottles of mineral water have also been banned at hotels and the regulation will soon be imposed on restaurants.
·       Union Government introduces Daily Drug Regimen for treatment of Tuberculosis
The Ministry of Health & Family Welfarelaunched Daily Drug Regimen for treatment of Tuberculosis (TB) patients across the country under The Revis.
Under it, Health Ministry is providing a thrice-weekly regimen for treatment of TB, however, it has now decided to change treatment strategy for TB patients.
TB is a bacterial disease caused by Mycobacterium tuberculosis bacteria that most often affect lungs. The disease is spread from person to person through the air.
·       Indias First Mega Coastal Economic Zone to Come up in Maharashtra
The Union Government has given the go-ahead for setting up India's first mega coastal economic zone (CEZ) at the Jawaharlal Nehru Port in Maharashtra as part of a plan to develop 14 such industrial clusters to spur manufacturing and generate jobs.
About 45 companies across telecom, auto and IT sectors will soon bid for 200 hectares of land to set up manufacturing units in the zone.
The plan envisages a total investment of Rs 15,000 crore in the first phase and creation of more than 1.5 lakh jobs.
·       Union Cabinet increases carpet area of houses under Pradhan Mantri Awas Yojana
The Union Cabinet approved an increase in carpet area of houses eligible for interest subsidy under Credit Linked Subsidy Scheme (CLSS)for Middle Income Group (MIG)under Pradhan Mantri AwasYojana (Urban). The purpose is to further enhance the scope, coverage, and outreach of Scheme for Middle Income Group (MIG) under Pradhan Mantri AwasYojana (Urban). 
The purpose is to further enhance the scope, coverage, and outreach of Scheme and outreach of Scheme.
The limit of 120 sqm and 150 sqm is seen as reasonable enhancement and it will cater to the market generally scouted by MIG belonging to two income category.
·       Vice President launches Journey of Women Law Reforms and The Law Commission of India Some Insights book
Vice President M Venkaiah Naidu received the first copyof the book 'Journey of Women Law Reforms and The Law Commission of India  Some Insights', from the Author former Joint Secretary, Dr. Pavan Sharma.
The author has made an excellent analysis and more such studies can help focus nation's attention to important areas like matrimonial laws, property laws, laws relating to inheritance, succession, guardianship as well as NRI marriages and issues of sexual violence.