RAJASTHAN
Gulab Bagh in Udaipur to house Rajasthan's first bird park
A part of heritage park Gulab Baghis undergoing a transformation. It will soon house the state's first bird parkwith a variety of local and scheduled species.
Gulab Bagh is being converted into an exclusive bird park.
The project comprises a water bird area, enclosures for caged birds, free zone and a learning centre along with public facilities.
Gulab Bagh is a heritage park made in 1862. We conceived the idea of turning the place into a bird park after the zoo stopped functioning so that large number of people visiting the park get to see birds in their natural environment.
INTERNATIONAL
The Nobel Prize in Chemistry 2017
The 2017 Nobel Prize in chemistry has been awarded to three scientists for improving images made of biological molecules.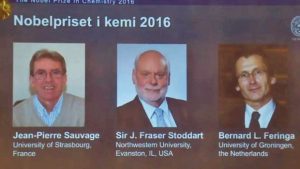 Jacques Dubochet, Joachim Frank and Richard Henderson will share the nine million kronor (£831,000) prize.
They developed a technique called cryo-electron microscopy (cryo-EM), which simplifies the process for looking at the machinery of life.
Prof Dubochet was born in Switzerland, Joachim Frank is German and Richard Henderson is from Edinburgh, UK.
·         World Space Week is observed from October 4th to October 10th
The World Space Week is observed from 4th to 10th October.
The theme of 2017 is 'Exploring New Worlds In Space'.
On October 4th1957 Sputnik 1 was launched.
It was the first human-made, Earth-orbiting satellite. Second, the signing of The Outer Space Treaty on October 10th 1967.
NATIONAL 
·       India Renewable Energy to be double by 2022
India's renewable energy capacity will more than double by 2022 to overtake renewable expansion in the European Union for the first time, International Energy Agency (IEA).
The country's renewable energy installed capacity is 30 GWas per the recent government data.
The government has a target of raising it to 175 GWby 2022 including 100 GW of solar and 60 GW of wind energy.
Earlier this year, the solar and wind power tariffs dropped to an all-time low of Rs2.44 per unit and Rs3.46 per unit in a tariff-based competitive bidding conducted by Solar Energy Corporation of India (SECI).
From Oct 31, speed past toll booths, pay tax later
The Union road transport and highways ministry's much-hyped Electronic Toll Collection (ETC), which will allow commuters to travel seamlessly on highways without having to wait in long queues to pay a toll tax, will finally kick off in all the 370 toll plazas across the country by October 31 over five years after the system was announced.
A vehicle installed with the RFID also called FastTags that can be recharged once the balance becomes zero, will be able to drive past a toll plaza without having to stop and pay the toll. The tag will have a unique code that will help identify the vehicles so when they will pass through a plaza, the system will read the code and automatically deduct the toll.
·       Union Government Names Rajnish Kumar as SBI's Next Chairman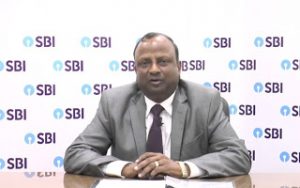 The Union Government named Rajnish Kumaras the new chairman of State Bank of India for a three-year term.
He succeeds Arundhati Bhattacharya.
Country's first ITI for dibyangans in Dibrugarh
Foundation stone for the first ever Industrial Training Institute for the Dibyangans exclusively was laid at Dibrugarh ITI Complex at Borboruah, Dibrugarh by Chief Minister Sarbananda Sonowal.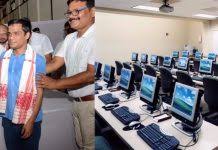 This is a one of a kind institute in the country in order to set up a new pathway for empowerment of the differently abled youth of the state.
RBI keeps repo rate, reverse repo rate unchanged
The Reserve Bank of India (RBI) has kept the repo rate and reverse repo rate unchanged at 6 percent and 5.75 percent respectively.
Repo Rate: Unchanged at 6%
Revrese Repo Rate: Unchanged at 5.75%
Marginal Standing Facility (MSF) Rate: Unchanged at 6.25%
Bank Rate: Unchanged at 6.25%
Cash Reserve Ratio: Unchanged at 4%
Statutory Liquidity Ratio (SLR): Changed by 50 basis points to 19.5%