Divisions and Districts of Rajasthan
Total Districts: 33
Total Panchayat Samities: 295
Total Gram Panchayats: 9891
The detail analysis of Population Census 2011 published by Govt. of India for Rajasthan state reveal that population of Rajasthan has increased by 21.31% in this decade compared (2001-2011) to past decade (1991-2001). The density of Rajasthan state in the current decade is 519 per sq mile.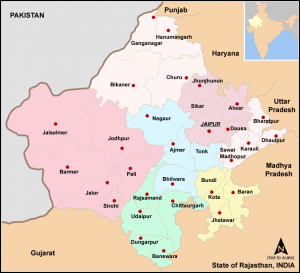 Rajasthan is an State of India with population of Approximate 6.86 Crores.
The population of Rajasthan state is 68,548,437.
The density of Rajasthan state is 200 per sq km.
Rajasthan State is spread over 342,239 Sq Km.
The Indian state of Rajasthan is divided into 33 districts for administrative purposes.
The responsibilities of district management are carried out by All-India officials and state-appointed officials.
The All-India officials in each district are a Deputy Commissioner or district Magistrate (from the Indian Administrative Service), a Superintendent of Police (from the Indian Police Service) and a Deputy Conservator of Forests (from the Indian Forest Service), each of which is assisted by officers of various Rajasthan state services.
The state-appointed officials are responsible for matters such as health, education, and agriculture in each district.
The 33 districts are grouped into seven divisions:
Division
Districts
Jaipur

Jaipur
Alwar
Jhunjhunu
Sikar
Dausa

Jodhpur

Barmer
Jaisalmer
Jalore
Jodhpur
Pali
Sirohi

Ajmer

Ajmer
Bhilwara
Nagaur
Tonk

Udaipur

Udaipur
Banswara
Chittorgarh
Pratapgarh
Dungarpur
Rajsamand

Bikaner

Bikaner
Churu
Sri Ganganagar
Hanumangarh

Kota

Baran
Bundi
Jhalawar
Kota

Bharatpur

Bharatpur
Dholpur
Karauli
Sawai Madhopur
Districts of Rajasthan with Their HQ
District
Headquarters
Area (km²)
Population (2011)
Division
Ajmer
Ajmer
8,481
2,584,913
Ajmer
Alwar
Alwar
8,380
3,671,999
Jaipur
Banswara
Banswara
5,037
1,798,194
Udaipur
Baran
Baran
6,955
1,223,921
Kota
Barmer
Barmer
28,387
2,604,453
Jodhpur
Bharatpur
Bharatpur
5,066
2,549,121
Bharatpur
Bhilwara
Bhilwara
10,455
2,410,459
Ajmer
Bikaner
Bikaner
28,466
2,367,745
Bikaner
Bundi
Bundi
5,550
1,113,725
Kota
Chittorgarh
Chittorgarh
10,856
15,44,392
Udaipur
Churu
Churu
13,858
2,041,172
Bikaner
Dausa
Dausa
3,432
1,637,226
Jaipur
Dholpur
Dholpur
3,033
1,207,293
Bharatpur
Dungarpur
Dungarpur
3,770
1,388,906
Udaipur
Hanumangarh
Hanumangarh
12,645
1,779,650
Bikaner
Jaipur
Jaipur
14,068
6,663,971
Jaipur
Jaisalmer
Jaisalmer
38,401
672,008
Jodhpur
Jalor
Jalore
10,640
1,830,151
Jodhpur
Jhalawar
Jhalawar
6,219
1,411,327
Kota
Jhunjhunu
Jhunjhunu
5,928
2,139,658
Jaipur
Jodhpur
Jodhpur
22,850
3,685,681
Jodhpur
Karauli
Karauli
5530
1,458,459
Bharatpur
Kota
Kota
5,446
1,950,491
Kota
Nagaur
Nagaur
17,718
3,309,234
Ajmer
Pali
Pali
12,387
2,038,533
Jodhpur
Pratapgarh[2]
Pratapgarh
4,117
868,231
Udaipur
Rajsamand
Rajsamand
4,768
1,158,283
Udaipur
Sawai Madhopur
Sawai Madhopur
10,527
1,338,114
Bharatpur
Sikar
Sikar
7,732
2,677,737
Jaipur
Sirohi
Sirohi
5,136
1,037,185
Jodhpur
Sri Ganganagar
Sri Ganganagar
11,154
1,969,520
Bikaner
Tonk
Tonk
7,194
1,421,711
Ajmer
Udaipur
Udaipur
13,883
3,067,549
Udaipur