Rajasthan: Irrigation and Hydropower
At the time of independence there was 1 major project, 43 medium and 2272 minor projects and the irrigation potential was only 4 lac ha. Hence after independence the state irrigation department was formed in 1949 with the objective of increasing the production of the food and fodder and to establish a suitable irrigation system to control the losses due to drought and flood. With this objective many projects were taken up by the department to increase the irrigation potential.
Rajasthan accounts for 10.41% geographical area of the country ,5.5 % of total population and 2/3rd part is desert. State is divided into 16 basins, out of which only two basins (Chambal & Mahi) are having sufficient rainfall and yield.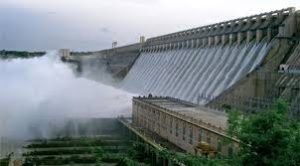 Important Irrigation Projects and Dams of Rajasthan
Bisalpur Dam
Bisalpur Dam on the Banas river in Tonk district is a gravity dam and major source of drinking water supply to capital city of Jaipur. The project was co-financed by the Asian Development Bank (ADB) and the Japan International Cooperation Agency (JICA). In 2016, the almost-dry Pushkar Lake was filled with water from the Bisalpur reservoir for the annual Pushkar Fair.
Mahi Bajaj Sagar Dam
Mahi Bajaj Sagar Dam across the Mahi river is the second largest dam in Rajasthan. The Mahi Dam in Banswara is famous for canals and beautiful surroundings,situated 16 kilometres from Banswara. It is the second largest dam in Rajasthan. It is named after Jamnalal Bajaj. The Mahi is a river in western India. It rises in Madhya Pradesh and, after flowing through the Vagad region of Rajasthan, enters Gujarat and flows into the Arabian Sea. There are large number of islands within the catchment area of the dam, so Banswara also called popularly called as "City of Hundred Islands".The dam is easily accessible by road.The dam has an installed capacity of 140 MW. The Mahi river flowing into the Gulf of Khambhat is on the verge of extinction due to pollution and salinity. The river Mahi originates from Sardarpura village of Dhar district in Madhya Pradesh and flows through M.P. Rajasthan and Gujarat before conversing into bay of Khambat in Gujarat state. From water potential point of view, the Mahi river basin is the third largest among fifteen well defined and discriminated river basins of Rajasthan state.
Rana Pratap Sagar Dam
Rana Pratap Sagar Dam is one of the major dams built on India's Chambal river, located in Rawatbhata in Rajasthan. The  renowned Ranapratap Sagar gravity masonry dam is second largest dam on Chambal river and one of the major dam of Chambal Valley Project.  It is part of integrated scheme of a cascade development of the river involving four projects starting with the Gandhi Sagar Dam in the upstream reach (48 kilometres (30 mi) upstream) in Madhya Pradesh and the Jawahar Sagar Dam on the downstream (28 kilometres (17 mi) downstream) with a terminal structure of the Kota Barrage (28 kilometres (17 mi) further downstream) in Rajasthan for irrigation.
Meja Dam
Meja Dam in the mewar region of Rajasthan is the biggest dam of Bhilwara and the lake is home to number of mammals and birds. Bhilwara Meja Dam is located 20 km away from Bhilwara city and surrounding area is famous for its green mount park. Main flowing river in the district is Banas river which is dry due to less rainfall in the catchment and as a consequence large numbers of tubewells sunk in Kankroliya Ghati area could not get recharged sufficiently.
Jawai Dam
Jawai Dam is constructed over the Jawai river near Sumerpur town in Pali district. The Jawai dam is biggest dam in the western Rajasthan and the lake is paradise for migratory birds and crocodile.  built across the Jawai river, a tributary of Luni river. With the same name, a village also situated near to the dam and a railway station on Ajmer-Ahmedabad route.
Besides being a Winter paradise for migratory birds, it is the main water supply source for Jodhpur city and parts of Pali district. If there is sufficient water in the dam, then some villages of Jalore district and Pali district get water for irrigation from the Jawai dam, which was the main aim in making this dam.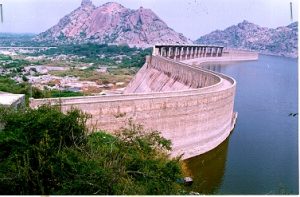 Indira Gandhi Canal
The Indira Gandhi Canal is one of the largest canal projects in India. It starts from the Harike Barrage at Harike, a few kilometers below the confluence of the Satluj and Beas rivers in the Indian state of Punjab and terminates in irrigation facilities in the Thar Desert in the north west of Rajasthan state. Previously known as the Rajasthan Canal, it was renamed the Indira Gandhi Canal in 1985 following the assassination of Prime Minister Indira Gandhi.
The canal consists of the Rajasthan feeder canal with the first 167 kilometres (104 mi) in Punjab and Haryana state and a further 37 kilometres (23 mi) in Rajasthan followed by the 445 kilometres (277 mi) of the Rajasthan main canal, which is entirely within Rajasthan. The canal enters Haryana from Punjab near Lohgarh village then runs through the western part of the Sirsa district before entering Rajasthan near Kharakhera village in the Tibbi tehsil of the Hanumangarh district. The canal traverses seven districts of Rajasthan: Barmer, Bikaner, Churu, Hanumangarh, Jaisalmer, Jodhpur, and Sriganganagar.
For efficient and optimum use of water available in project, it has been decided to establish sprinkler irrigation system in lift schemes of stage-II. A pilot project of sprinkler irrigation was taken up in 27,449 hectare in the year 2007-08, in which all works to be executed by department have been completed. All Water User Associations (WUA) proposed in this area have been constituted and irrigation with sprinklers has been started in 21,262 hectare after taking electric connections.
Water Resources Department
Water Resources Department of Rajasthan has done a very important work by utilizing, managing and exploiting its meager water resources in the form of major, medium and minor irrigation projects. With the consistent efforts of the Department, irrigation potential has been raised to 38.32 lakh hectare by 2015-16 while before independence it was only 4 lakh hectare surface irrigation. During financial year 2016-17, 16,076 hectare (including IGNP) additional irrigation potential has been created upto December, 2016.
Four Water Concept
The Four Water Concept is integral part of IWMP. During the year 2016-17 a provision of 50 crore has been made for work execution based on four water concept. The department has received `47.92 crore for treatment of catchment of 247 minor irrigation tanks selected in Mahi and Chambal Basins and an expenditure of 25.10 crore has been incurred upto November, 2016.
Mukhyamantri Jal Swawlamban Abhiyaan (MJSA)
The main purpose of this Abhiyaan is to makeapproximately 21,000 villages water wise self reliant
In four years by raising funds through convergence, public contributions and donations etc. for financial gap filling for MJSA. Under this, State Government has decided to initiate MJSA by covering various line department activities and funds as well as by providing separate budget form State. In the first phase of MJSA covered 3,529 villages and out of 96,709 works, 95,071 works completed. For the second phase approximately 1,38,257 works have been identified in approximately 4,214 villages and second phase has been inaugurated on 9th December, 2016.