RAJASTHAN
Chittor's human milk bank best in Rajasthan
Human milk bank in Chittorgarh has been adjudged as the best in all 16 such banks operational in the state.
In a state level function organised at Indira Gandhi Panchayati Raj Sansthan for celebrating first annual function of milk banks in the state, 14 persons received awards in different categories associated to mothers' milk bank in different ways.
So far, 49 lakh millilitres of milk has been donated by 23,048 lactating mothers. From the donated milk, the milk banks produced 1.58 lakh units of milk having 30ml of milk in each unit. Out of 1.58 lakh units, 1.27 lakh unit of milk has already been provided to needy neonates (under-28 day infants).
The milk was provided to neonates undergoing treatment at ICUs in different government hospitals.
It is clinical milk banking which surely helps saving life of neo-natal that eventually reduces infant mortality rate. In clinical milk banking, a neonatal is provided with mother milk from the existing milk bank who is admitted to a hospital or his or her mother is admitted to the hospital.
INTERNATIONAL
Government nominates J S Rajput as Representative to the Board of UNESCO
The Government of India has decided to nominate Professor J S Rajput, former Director NCERT, as India's representative to the Executive Board (EXB) of UNESCO.
Professor J S Rajput is an eminent educationist with rich experience in various fields including UNESCO.
The EXB has a four-year term of office and 58 seats.
The executive board is one of the constitutional organs of UNESCO and is elected by the General Conference.
·        India U-16 Win Hong Kong Football Tournament
The India U-16 team emerged champions in the Jockey Cup International Youth Invitational Football Tournamentwith a victory over Hong Kong U-17 in the final in Hong Kong.
The tournament was a U-17 event where India fielded their U-16 National Team.
This was the team's third consecutive victory in as many days. The team was coached by Bibiano Fernandes.
·        SWIFT Introduces Universal Real-Time Payment Tracking
SWIFTannounces the extension of its GPI Tracker to cover all payment instructions sent across the network, enabling GPI banks to track all their SWIFT payment instructions at all times, and giving them full visibility over all their payments activity.
The Tracker, which has been available since May 2017, enables banks that have signed up to the service to track their GPI payments in real-time.
NATIONAL
West Bengal tops the list of states with most number of beggars
The government has come out with the total number of beggars in the country. As per the data released by Union ministry of Social Justice, there are around 4 lakh beggars in total.
The highest number of beggars, 81,000, are in West Bengal.
West Bengal is followed by Uttar Pradesh and Bihar at number two and three respectively.
Lakshadweep, a union territory, has only two people begging for their livelihood.
UIDAI set to introduce face authentication feature from July 1
The Unique Identification Authority of India (UIDAI) is all set to make face authentication available alongside iris or fingerprint scan as means of verifying Aadhaar users from July 1, 2018.
The UIDAI, which is in-charge of the 12-digit identifier Aadhaar, in January had announced that it will introduce face authentication feature to help those who run into problems in biometric authentication due to old age, hardwork or worn-out fingerprints.
·        Asias Largest Tulip Garden In Srinagar Opens For Visitors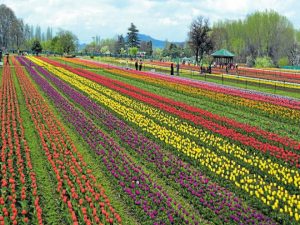 Indira Gandhi Memorial Tulip Garden was opened for visitors in Srinagar, Jammu & Kashmir.
It is recognized as the Asia's largest tulip garden.
This year, 12.5 lakh tulip bulbs of 48 varieties were sown in the garden by the floriculture department.
Apart from the tulips, 40,000 hyacinth bulbs have also been planted.
5th India Maize Summit 2018
Maize production in India has seen a boom in recent years which has been possible due to increase in area as well as productivity.
This was stated by the Union Minister of Agriculture and Farmers' Welfare Shri Radha Mohan Singh at the inaugural event of the 5th India Maize Summit 2018 at FICCI, New Delhi.
Delivering the inaugural address, Shri Singh said that during 1950-51, India produced only 1.73 MT, which has reached 25.89 MT in 2016-17 and is expected to cross 27 MT in 2017-18.
The average productivity in India is 2.43 ton/ha.