An Introduction to West Bengal  Economy:-
West Bengal is situated in eastern India and shares its borders with Jharkhand, Bihar, Odisha, Sikkim and Assam. The state also shares international borders with Bangladesh, Bhutan and Nepal. The Bay of Bengal is in the south of the state.
Steady growth along with fiscal consolidation has been the hallmark of the State economy. When India has grown 4.7 percent, West Bengal has grown 8.62 percent as per CSO's report published on 1st August,2014. GSDP growth in West Bengal was higher than the National Average for 2013-14. Growth rate in National Average of GDP at Current Prices in 2013-14 was 11.50%, while Growth Rate in GDP in West Bengal for the same period was 14.27%. Growth rate in National Average of GDP at Constant Prices in 2013-14 was 4.7%, while Growth Rate in GDP in West Bengal for the same period was 8.62%. Growth rate in Per Capita Net State Domestic Product at Current Prices for 2013-14 for West Bengal was 13.14% as against the National Average of 9.64% during the same period. Growth rate in Per Capita Net State Domestic Product at Constant Prices for 2013-14 for West Bengal was 7.78% as against the National Average of 2.70% during the same period.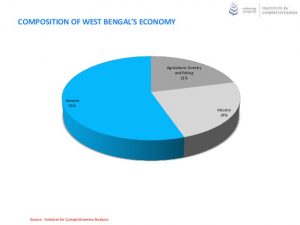 Salient Highlights of Economy of West Bengal:-
West Bengal is India's sixth largest economy.The state's GSDP expanded at a compound annual growth rate (CAGR) of 10.57 per cent from 2004-05 to 2015-16. Agriculture is the chief occupation in the state and contributed 18.8 per cent to the GSDP in 2014-15.
West Bengal is the largest producer of rice in India. Rice production for the state totalled 16.1 million tonnes in FY 2015-16.
West Bengal is also the largest fish producing state in India. During 2015-16, the state produced a total of 1.63 million tonnes of fish in comparison with a produce of 1.61 million tonnes during 2014-15.
As of June 2016, West Bengal had a total installed power generation capacity of 9,988.4 megawatt (MW).
West Bengal is the second largest tea-producing state in India. During 2014-15, it produced 329.3 million kg of tea, accounting for 27.8 per cent of India's total tea production and is home to the globally acclaimed Darjeeling tea variety. Total tea production in West Bengal from April-September 2015 stood at 211.1 million kilograms.
Kolkata is the prime centre for India's jute industry. The state stands first in the country in terms of jute production.
In 2015-16, the state produced around 2.38 million tonnes of sugarcane and 3.1 million tonnes of fruits.
West Bengal is also a leading exporter of leather and has about 666 manufacturing units producing leather and leather goods. About 22-25 per cent of India's tanning activity is undertaken in Kolkata.
Its location advantage makes the state a traditional market for eastern India, the Northeast, Nepal and Bhutan. It is also a strategic entry point for markets in Southeast Asia. The cost of operating a business is lower in Kolkata than in other metropolitan cities.
West Bengal has abundant natural resources of minerals and suitable agro-climatic conditions for agriculture, horticulture and fisheries.
It is in vicinity to mineral rich states like Jharkhand, Bihar and Odisha. It offers excellent connectivity to the rest of India in terms of railways, roadways, ports and airports.
The state (including Sikkim and Andaman & Nicobar Islands) has attracted Foreign Direct Investment (FDI) equity inflows worth US$ 3.93 billion during the period April 2000 to March 2016, according to data released by Department of Industrial Policy and Promotion (DIPP).
West Bengal has also made a beginning in information technology (IT) sector. By 2015-16, eight IT parks are expected to start operating in the state. In addition, seven new IT parks are expected to start in the state over the next five years.
West Bengal stands 11th among Indian states in rankings based on ease of doing business and reforms implementation, according to a study by the World Bank and KPMG.
Key Sectors:
MSME industries are considered to create maximum employment opportunities for the youth in the state as the sector has maximum elasticity of labour output. Over last five years, there has been an increase in bank credit across the MSME sector, which has led to an increase in the investments as well as employment opportunities. Government of West Bengal proposed allocation of US$ 118.82 million for Micro, Small & Medium Enterprises & Textiles Department, during 2016-17.
The natural resources, policy incentives and infrastructure in the state support investments in major sectors such as iron and steel, biotechnology, coal, leather, jute products, tea, IT, gems and jewellery. The state has 3,000 acres of land at its disposal to set up industries.
Climatic conditions suitable for cultivation of tea and jute have made West Bengal a major centre for these products and related industries.
Agriculture:-
Agriculture dominates both the landscape and the economy of West Bengal. Its proportion of agricultural land is among the highest of all the Indian states. Rice, which requires extensive irrigation, is the leading crop in nearly every area. Indeed, despite its relatively small size, West Bengal produces a significant percentage of India's rice harvest. Other major crops are sugarcane and oilseeds. Jute is especially prominent along the border with Bangladesh and south of the Ganges River. Mangoes, jackfruit, and bananas are widely produced in the southern and central portions of the state. Wheat and potatoes are produced as winter crops throughout the south. The northern areas around Darjiling and Jalpaiguri have long been known for their production of high-quality tea. The Darjiling region also produces oranges, apples, pineapples, ginger, and cardamom.
Industry:-
The state's most important industrial belt is a corridor extending for a distance north and south of Kolkata, along the Hugli River. Another significant industrial region is located along the Damodar River. There are steel plants at Durgapur and Burnpur and a locomotive plant at Chittaranjan. Haldia, the terminus of an oil pipeline from Assam and the site of a large oil refinery, also has a petrochemical industry. Other important manufactures include ships, automobiles, chemicals and fertilizers, wagons, electronics, paper, jute, and cotton textiles. The state has a large number of small-scale and cottage industries as well. In the late 20th and early 21st centuries, the only mineral resources of West Bengal that sustained nationally significant exploitation were coal and clay for brickmaking.
Services:-
The service sector has accounted for an increasing proportion of the state's economy. Trade, finance, insurance, and related activities have grown significantly, and tourism has become increasingly important. Also experiencing growth has been the information technology sector. Kolkata is the financial centre for both the state and eastern India.
Current Scenario:-
The Eastern states, led by West Bengal, have the potential to become a $3 trillion regional economy and account for over a quarter of the national GDP by 2035, says a report. A report by domestic rating agency Smera Ratings says the critical location of Bengal makes it the potential business hub of a $3 trillion regional economy by 2035, when the size of national GDP is likely to touch $11.34 trillion.
The agency believes that the fortunes of the Eastern region, comprising West Bengal, Odisha, Bihar, Jharkhand, Chhattisgarh, Assam and the seven North-Eastern states, are directly connected with the development of West Bengal since the state is the node for the entire Eastern region.
Bengal currently contributes 40 per cent of the region's GDP, and is also home to the most developed metropolitan area in East India, Kolkata.
As of last fiscal year, the Eastern region contributes the maximum in terms of locomotive equipment output at 63.5 per cent, out of which West Bengal alone chips in with 46 per cent share, almost the entire (99.2 per cent) jute production output of which over 79 per cent comes from West Bengal alone, and over 82 per cent of the country's tea production, the report said, quoting data from the India Brand Equity Forum and other industry bodies.
The region also contributes to over 25 per cent of leather production, 21.5 per cent of steel output and 44.1 per cent of mining and quarrying, 28.7 per cent of crude oil output and 10.4 per cent of chemicals and chemical products, the report said.
The Eastern region has direct influence over 30 per cent of IIP and 57 per cent of core industries. Depending on the level of growth in the next two decades, the GDP contribution from the region can be USD 2.8-3 trillion.
The 'Act East' policy can give a big leg-up to the country's bilateral trade with the ASEAN countries, particularly Cambodia, Laos, Myanmar and Vietnam, which in turn will add further impetus to the Eastern region. The Indo-ASEAN trade is already valued at over $80 billion.
Currently, the GDP of West Bengal is $136 billion, or 6.6 per cent of national GDP, which although is not even half of that of Mumbai, is growing at an average rate of 7 per cent, the report said.
The Kolkata region saw a 200 per cent jump in FDI inflows in the first half of FY16, while rest of the region saw a decline.