INTERNATIONAL
UNESCO removes Racist, a Belgian carnival, from the heritage list
The United Nations Educational, Scientific and Cultural Organization (UNESCO) removed 'Racist' the Belgian carnival from the heritage list. It was removed over the recurring repetition of racist and antisemitic representations as the carnival mocks Jews.
The carnival is celebrated in the Belgian city of Aalst every year. It was initially added to UNESCO's list of the intangible cultural heritage of humanity in 2010. 
The presence of a parade float featuring Orthodox Jews with hooked noses and sitting on gold bags caused outrage in Belgium. There are around 40,000-strong Jewish community living in Belgium.
NATIONAL
GEM launches national outreach programme 'GeM Samvaad'
Government e-commerce portal GeM has launched a national outreach programme, GeM Samvaad, to bring on-board more local sellers.
The outreach programme will take place with stakeholders across the country and with local sellers to facilitate on-boarding of local sellers on the marketplace.
The programme was launched by Commerce Secretary Anup Wadhawan in New Delhi.
The programme will take place till the 17th of February next year and will cover all the States and Union Territories of the country.
GeM has more than 15 lakh products and around 20,000 services, more than 3 lakh registered sellers and service providers and more than 40 thousand government buyer organizations.
India's gender gap widens, slips 4 places in WEF survey
India has slipped four places to rank 112th globally in terms of gender gap amid widening disparity in terms of women's health and survival and economic participation.
While Iceland remains the world's most gender-neutral country, India has moved down the ladder from its 108th position last year on the World Economic Forum's Gender Gap Report.
It ranks below countries like China (106th), Sri Lanka (102nd), Nepal (101st), Brazil (92nd), Indonesia (85th) and Bangladesh (50th).
Yemen is ranked the worst (153rd), while Iraq is 152nd and Pakistan 151st.
Three capitals for Andhra Pradesh
The  Andhra Pradesh Chief Minister Y S Jaganmohan Reddy indicated that the State could have three capitals following the decentralisation concept.
The Chief Minister said, the existing Capital Amaravati could become the "Legislative Capital", the Port city Visakhapatnam the "Executive Capital" and  the  Kurnool the "Judiciary Capital".
Meanwhile he also added that a final call would be taken only after the  Expert  Committee constituted to look into the issue submitted its report.
Centre to extend 2 years for AMRUT scheme
The Centre has decided to extend the mission period of the flagship initiative Atal Mission for Rejuvenation and Urban Transformation (AMRUT) by two more years. The government was unable to meet the set targets for urban renewal in 500 cities.
AMRUT was launched on 25 June 2015 by Prime Minister Narendra Modi. The initiative will complete its mission period in March 2020.
The initiative aimed to provide 139 lakh water connections by March 2020, 145 lakh sewer connections, stormwater drainage projects, parks, and green spaces and LED streetlights.
It allocated a total outlay of Rs.77,640 crore, including central assistance of Rs.35,990 crore.
NITI Aayog to include eggs, fish, chicken, and meat in PDS
Niti Aayog Plans to include eggs, fish, chicken, and meat, possibly through its public distribution system. The aim of the proposal is to improve India's low nutrition ranking at the global level. This is expected to be part of Niti Aayog's 15-year Vision Document. The document will be in place by early 2020 with effect from 1 April 2020.
NITI Aayog aims to widen the list of food items under the public distribution system and include at least one or more food items.
If it is implemented, these food items will join the food subsidy programme along with wheat, rice, coarse grains and a few varieties of pulses.
Centre launched the National Broadband Mission
The government has launched the National Broadband Mission on 17 December. It was launched by the Union Minister for Communications Shri Ravi Shankar Prasad.
The mission aims to provide broadband access to all villages by 2022.
The mission aims to provide universal and equitable access to broadband services in India, especially in rural and remote areas.
National Broadband Mission:
♦ The mission aims to provide broadband access to all villages by 2022.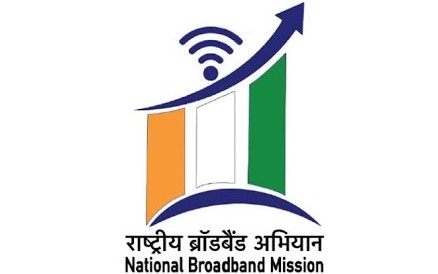 ♦ The mission includes laying of incremental 30 lakhs route km of Optical Fiber Cable (OFC). 
♦ It also plan to increase the tower density from 0.42 to 1.0 tower per thousand of the population by 2024.
♦ It will develop innovative implementation models for Right of Way (RoW) 
♦ It will work with States/UTs to implement policies to expand the digital infrastructure including for RoW approvals required for laying of Fiber-optic cable.
♦ The mission plans to develop a Broadband Readiness Index (BRI) in order to measure the availability of digital communications infrastructure and a conducive policy ecosystem within a State/UT.